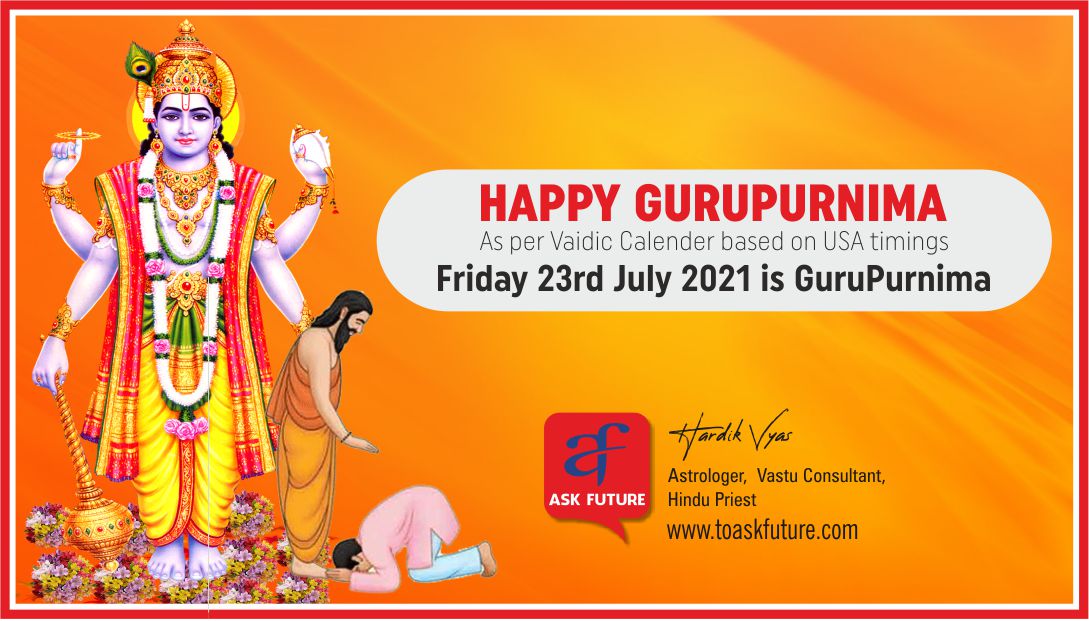 HAPPY GURUPURNIMA – Friday 23rd July 2021
HAPPY GURUPURNIMA
(As per Vaidic Calender based on USA timings)
Friday 23rd July 2021 is Guru Purnima 
Guru Purnima is a day devoted to Guru (teacher) & Spiritual Masters to honour & express gratitude towards them.
As per vaidic calender, Aashadh Month's (June/July) Full Moon day is Guru Purnima. As Full Moon day has total Brightness during the night also, similarly Guru also Enlightens our life with Brightness of Knowledge & removes the Darkness of Ignorance.
Gurur Bramha Gurur Vishnu, Gurur Devo Maheshwara,
Guru Sakshat ParaBramha, Tasmai Shree Guruve Namah.
Guru as a Creater (Bramha), Creates path of Spiritual Knowledge & Brightness.
Guru as a Sustainer (Vishnu), Sustains us on the path of Ascension & Enlightenment.
Guru as a Destroyer (Rudra), Removes our Darkness & Ignorance.
Hence, Guru is given nonetheless but equal importance to God. Because Guru is the one whose teaching & blessings can help us reach closer to God.
If you don't have Guru then ultimately God is Guru for everyone.
"KRUSHNAM VANDE JAGADGURUM"
– Hardik Vyas
Astrologer, Vastu Consultant, Hindu Priest