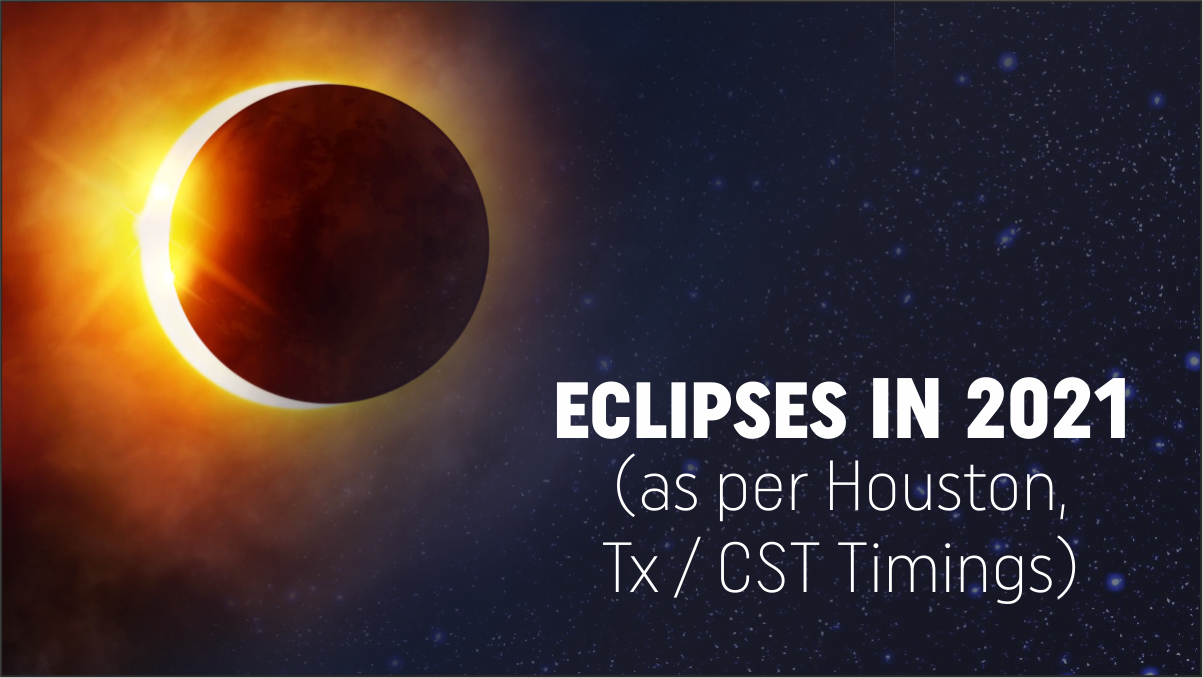 ECLIPSES IN 2021
ECLIPSES IN 2021 (as per Houston,Tx / CST Timings)
Total Lunar Eclipse (Red Moon) : May 26th, Wednesday




Time: 03:47 am to 08:49 am (Visible in USA)

Annular Solar Eclipse : June 10th, Thursday




Time: 03:12 am to 08:11 am (Not Visible USA, Except North East)

Partial Lunar Eclipse : Nov 19th, Friday




Time: 00:02 am to 06:03 am (Visible in USA)

Total Solar Eclipse : Dec 03rd, Friday – 04th, Saturday




Time: 03rd 11:29 pm to 04th 03:37 am (Not Visible in USA)
THE SPIRITUAL SIGNIFICANCE OF ECLIPSE
Sun & Moon both are sources of light on our planet & in our life also. During the Eclipse this light is covered by Dark Energy. That is why eclipse is considered In-Auspicious for any work, except Prayers.

If, Eclipse is Visible at your place then one has to follow Rituals for it. If it is Not-Visible at your place then you don't need to follow Rituals, BUT INSTEAD, YOU CAN UTILISE THAT TIME FOR PRAYERS.

THINGS TO DO DURING ECLIPSE : Any prayers, Mantra Chanting, Homam-Havan etc… gives multi time good results. But you can not give bath (abhishek) on God's idols or puja during Eclipse. Any mantras & prayers, which done at the time of eclipse brings miraculous effects in one's life.

THINGS TO AVOID DURING ECLIPSE : Any auspicious work or beginning of any Important thing, event. Pregnant woman & sick person should be more careful & should not look at Eclipse, also going out should be avoided during eclipse. Eating & cooking should be avoided during Eclipse.

After the Eclipse is over, It is advisable take bath & wear washed clothes, light flame (diya) or candle, to remove darkness & activate brightness around you. Any clothing you are wearing during eclipse should go to laundry along with bed sheets.
NOTE : All information is given based on Vaidic Culture (Hindu Religion) Belief. One may agree or disagree with it.
– Hardik Vyas
Astrologer, Vastu Consultant, Hindu Priest